Analysis of Assists by LeBron James in 2019-20 season
LeBron James is convincingly leading the NBA in assists per game this year, as well as total assists (almost 100 more than the next best passer !!). Because of that, I was wondering where the shots on his assist were and what type of the shots were they. In the shot chart you can see all such shots that I have divided into two categories.
"Catch And Shoot" shots are those which were shot directly after the pass by LeBron Usually, thos are jump shots, dunks and layups.
"Created" shots are ones that required a few extra dribbles after James passed the ball to the player who scored the basket. Such shots wouldn't be counted as assisted ones under FIBA rules.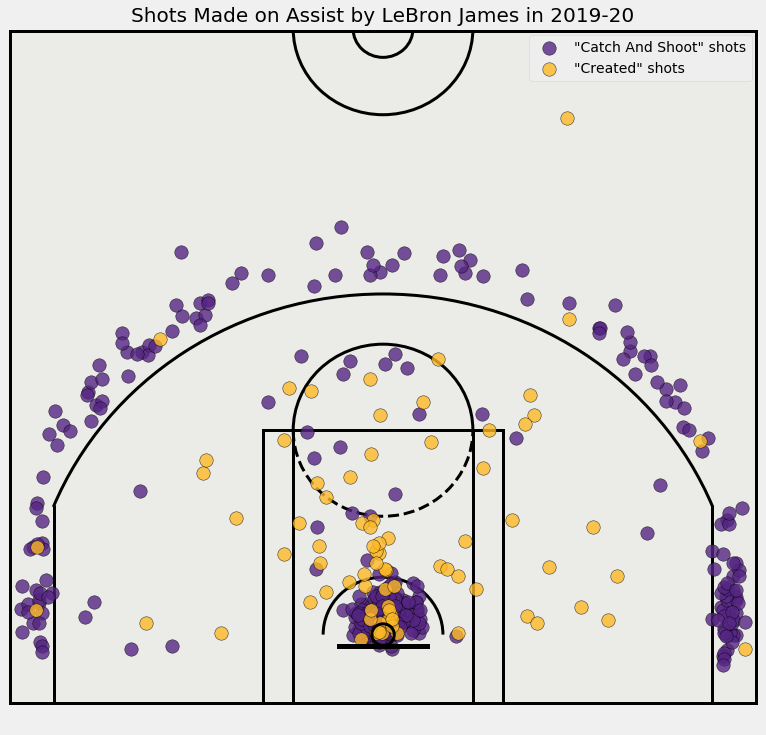 So it is interesting, or rather logical, that much more assisted shots where the "Catch And Shoot" shots, most notably the three-point shot and the dunk/ layup resulting from a fast break or pick and roll/ cut play. It is LeBron's style after all to kick out the ball on a drive, and because of that the Lakers brought in some good shooters this season (Danny Green and Caldwell-Pope among others).
Written on January 29, 2020