What Can We Expect From Mikal Bridges in the Main Role?
Mikal Bridges has been widely considered an "Elite Role Player" in the past several seasons. He's a very versatile defender who can defend 1 through 4 positions, he is an efficient and consistent scorer who will always make the right decision on the offensive side, and can even create his shot when needed. However, all of the mentioned things apply when he was a 3rd, or even more likely 4th option as Ayton still had more touches than him in the past seasons.
But this season we've been able to get a glimpse of how he looks as a second option, and even as the first option on an injury-riddled Suns.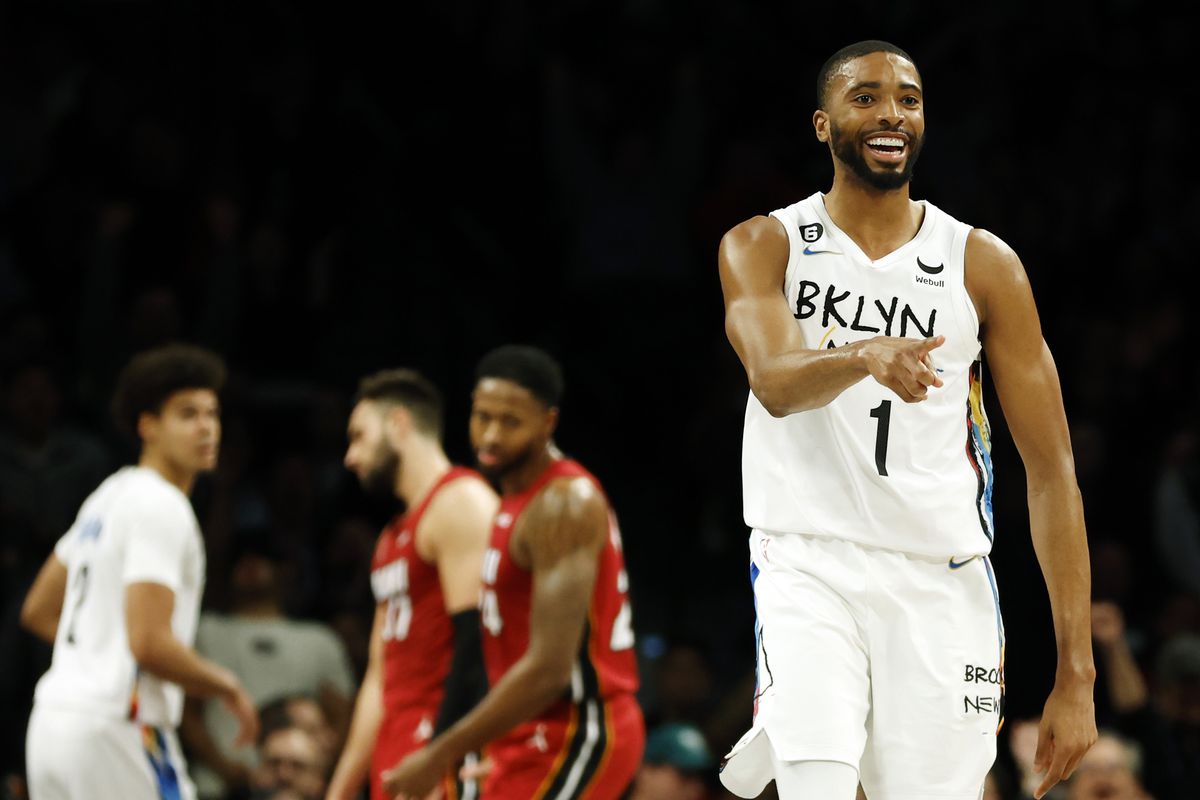 Credit: Sarah Stier/Getty Images
Even when we observe this season's entire Suns stint, Bridges took 3 FGA per game more than in the previous season and matched Ayton's shot attempts for the first time in his career, his offensive jump is something that has been steadily improving through the past several seasons. The rate of unassisted shots steadily increased from 15.4% to 18.1% and 29% in the current season.
And if we take a quick look at the simple classification (I'm just talking about pull-ups vs C&S here) of the type of shots he's taking, it's obvious that he incorporated more self-created shots in his cookbook. The rate of pull-up attempts has gone from just a mere 14.2% in 20-21 to 24.5% last season and up to 33% and is basically on par with C&S attempts (35%). the remaining third of his shots fall under the category of "Less than 10Ft" according to NBA.com - that category of shots has always remained high (and was even higher than that in past seasons) as Bridges was always a master of cutting and playing off the ball, where he could impact his team's offense by abusing the extra space that both CP3 and Booker generated by either scoring or passing on the move.
Let's take a closer look at the changes in his shooting preferences depending on surrounding players.
What Changed When Bridges Was Without CP3/Booker/Both?
To start, let's take a look at shot chart data. We'll take the frequencies of the shots per zone by Mikal depending on his teammate availability this season.
Shot Frequencies per Zone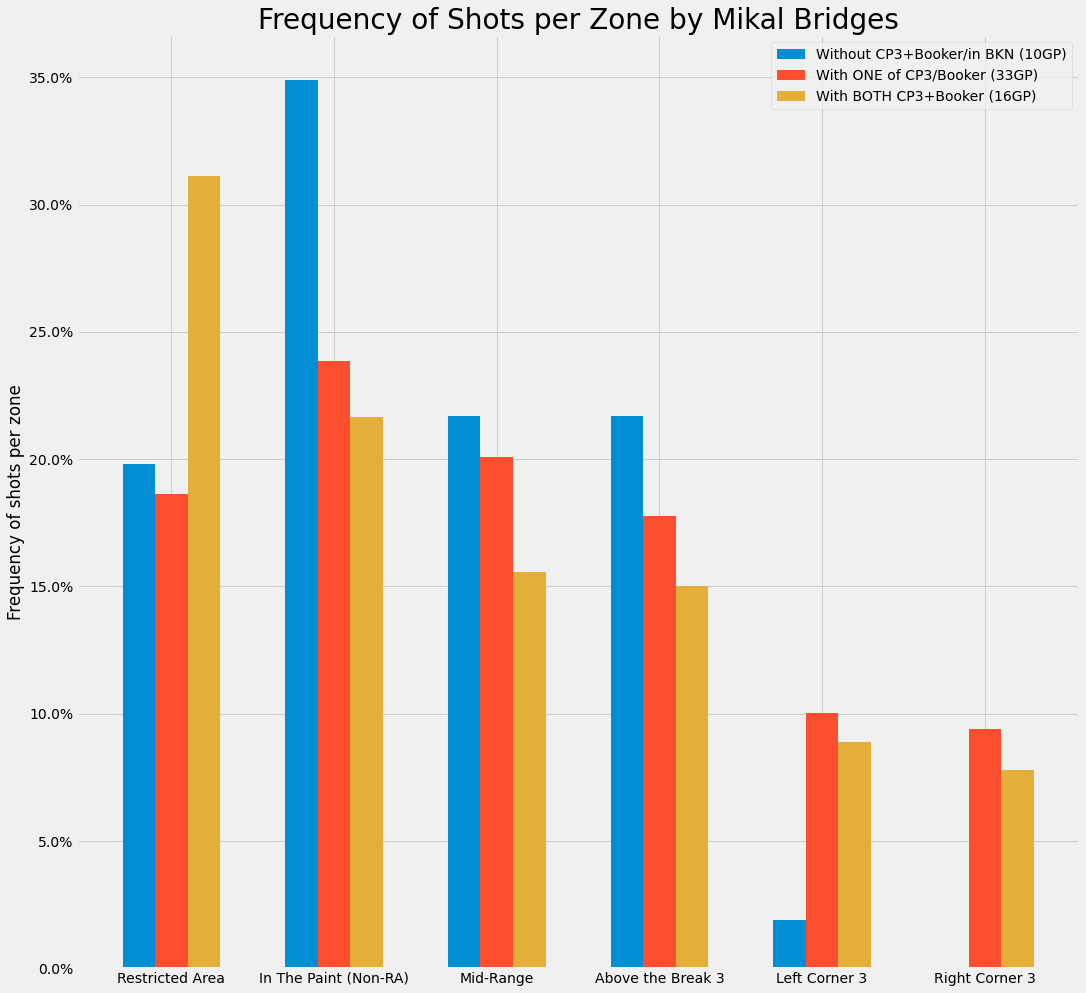 The first thing that grabs attention is that the biggest change is that when playing alone Bridges is taking A LOT more shots in the paint, but just outside of the restricted area. The restricted area sees the biggest increase when playing with both CP3 and Booker, and that makes a lot of sense because as I said, he's one of the best cutters in the league. According to the shot chart data from nba.com, last season he had 56 total cutting shot attempts, and that's among the highest number if we disregard big men (because every layup/dunk from pick and roll is counted as a "cutting" shot). A couple of wings/guards that are better than him are Gary Payton II, Aaron Gordon, Jae'Sean Tate, and Kenyon Martin Jr.
We can also see increases in both mid-range and above the break zones, which are all zones favored by players who are "first options" on their teams - which Mikal was without the main guys in Phoenix (as well as without Cam Johnson and Jae Crowder) and huge drops in Corner shots (basically non-existent), but with this data, we can only guess if he was taking "first option" types of shots, we'll need to take a look at the types of shot he took.
Change of Frequency and Efficiency in Pull Ups/Catch and Shoot shots
In the following chart, we can "confirm" our hypothesis from the previous section.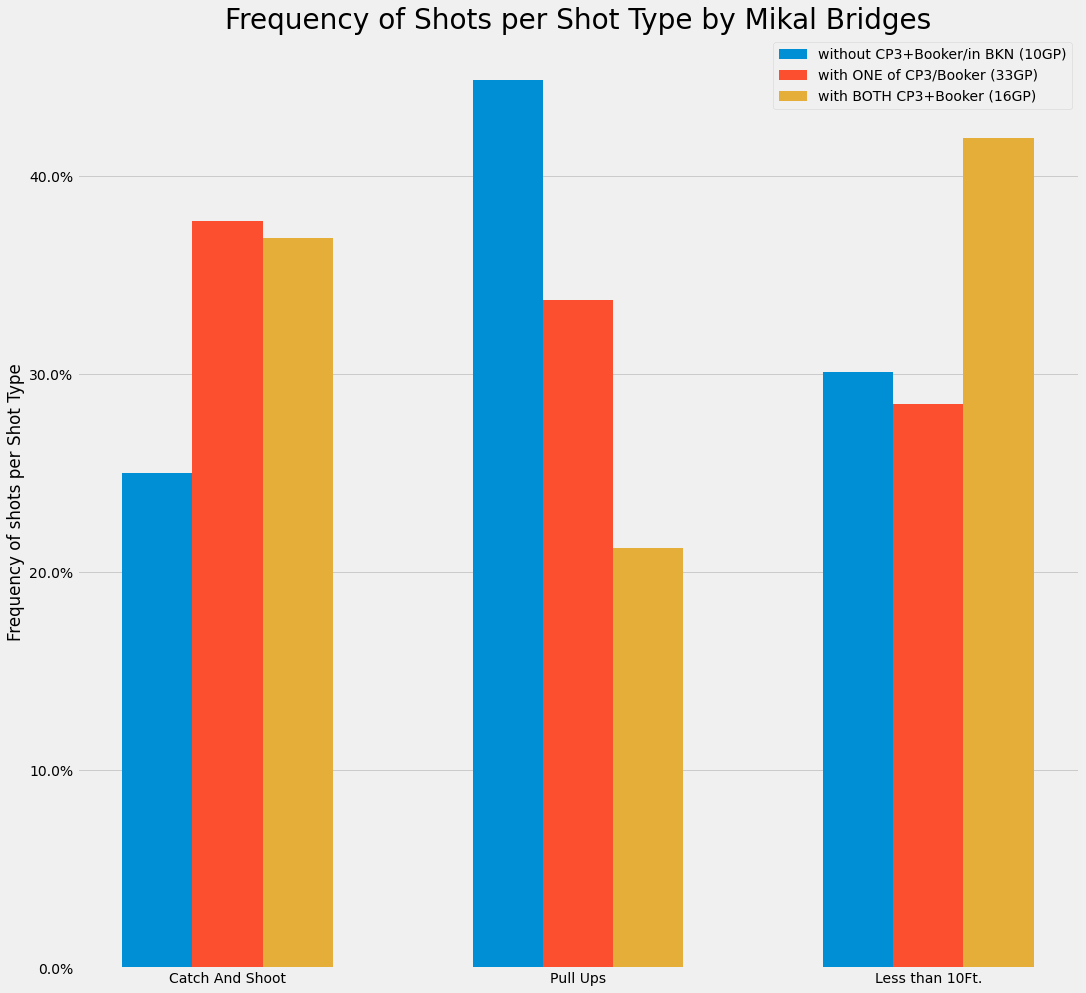 When playing alone/in Brooklyn, Bridges' shot profile changes significantly, from taking only 20% of his shots as Pull Ups when playing with both Paul and Booker to an insane 44.87%. We can see that in all cases his frequency is greater than last season's we mentioned in the introduction (18.1%), but the injuries made him take a bigger leap in terms of the offensive load. We can see the "Less than 10 ft." here have the same effect as the restricted area when watching the zones frequency.
In the past couple of years, he had some ridiculous numbers, posting 14.2 PPG on 60.1 efg% in 21/22 and 13.5 ppg on 64.3 efg%, but that was with 3+ shots per game less than in the current season. So the main question now is: did Mikal Bridges, the super effective elite role player maintain that efficiency with a bigger volume?
While his overall pull-up efg% is at exactly 45%, which is below average, his efg% when playing alone jumped to 50.71%, which moves him relatively close to the "elite" scorers. It's important to note (as you could've seen in other charts as well) that he played ONLY 10 games alone, but the volume is significantly larger in those games - 7 pull-ups vs 4.87 when playing with one of CP3/Booker vs 2.38 with both of them.
His go-to play in Phoenix was to mostly operate by starting off the ball, in either corner or low post, and then curling to the top of the key.
But that changed when he had a more prominent role, he often started playing from the top of the key and was involved in a more "traditional" pick-and-roll attack, from the top of the key.
He utilizes his 7-foot (2.15m) wingspan in his pull-ups by having the release point of the shot high which makes it a lot tougher to defend. While he prefers going to his right side before pulling up, he's shown in both plays that he can attack both directions which makes it tough for the defender to position himself.
What About Passing?
Bridges isn't known as a playmaker, but he was always great as a ternary (is this a thing?) creator, or in other words, he always made the right read when Booker or CP3 passed him the ball while being doubled.
Also, most of his passes come from the same set as his pull-up jumpers, when coming off a handoff/off-screen play from the corner attacking the middle of the court. He doesn't have the finesse in his dribble to be as patient as CP3 was when creating the shot, and he doesn't also drive "with authority" to the hoop which might help him cause greater gravity towards him if he did, but he can find an open player, and make a tough pass when offered. He's shown that in his first couple of Nets' games as well.
When talking numbers, his assists per game jumped from 2.31 when playing with BOTH Booker and CP3 to 3.82 when playing with only one of them and reached a really solid number of 5.43 when playing alone in PHX or in BKN.
So, What can Bridges Bring to the Nets Exactly?
Mikal is one of my favorite players in the league, and I always thought that a lot of young players coming into the league could and should model their game after him, as he was the perfect 3rd/4th option, probably the best 4th one in the league when he was in Phoenix. But that time is over, and he has taken the center of attention by both being the main player on the team, and playing on one of the biggest stages in the NBA.
The Nets are currently a playoff team, and even though their lineup currently looks like some sort of fantasy team, or a dream supporting cast for any superstar in the league, I do believe that they'll reach at least play-ins. As far as Mikal goes, maybe I'm biased, but I believe that he can continue with his great games and keep this Nets team in the playoff picture. He can be a reliable and efficient scorer by playing with the ball or moving and finding space off the ball. And we didn't even talk about his defense, you can be sure that he'll fit in great in their switching/blitzing scheme with other versatile defenders, after all, he finished 2nd last season in DPOY voting last season.
Bridges was always capable of raising the roof of the team, but his task right now is to raise the ceiling of the Nets and lead them on both sides of the court.
Written on February 23, 2023